Shortly before the Baron put on his traveling shoes and danced out the door, he expressed the hope that Fjordman would publish his take on Bruce Bawer's book regarding the Breivik massacre and its aftermath and Norway and etc.
Well, it's here! Or rather, it's there — The review I mean. I'd read it earlier today whilst visiting Tundra Tabloids for a quick look-see. But then an email from Fj arrived with a snip of that review — I presume for publication here…? [Since the Baron is the main interface with our essayists —I'm just along for the ride these days + thank you notes — I'm guessing on that. So let's just assume that was the reason for Fj's email and we're all set. Of course, I don't know if I'm supposed to go with what he sent of if I can improvise. Hmm…better to apologize, right?]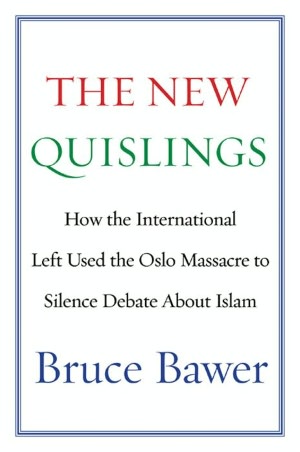 Here's the book: Interestingly, this one appears to be available only on Kindle. I ordered it quickly — $2.99, y'all! — and will read it this evening. Meanwhile, let's look at a few things.
First, I'm presuming our readers are familiar with the "old quislings". But on the other hand, 'quisling' isn't a term Americans of this generation necessarily would know, especially given the state of our putative education. I only knew the word growing up because my immigrant mother used it. Years later it was a surprise to learn Mr. Q was Norwegian; I'd just presumed as a kid that he was the epitome of an English bad guy. That word sounds so quintessentially English somehow, connoting things that slip and slide around in the dark. Or so it seemed to me back then. And so it sounded to the English also.
*   *   *   *   *   *   *   *   *   *   *   *   *   *   *
Here's part of the editorial review
at Amazon
:
In his New Quislings, Bruce Bawer explores the world-wide response to Breivik's rampage, from the Norwegian cultural elite to Atlantic blogger Andrew Sullivan and the New York Times' Roger Cohen.

He provides a fascinating portrait of the left-wing cultural elite in Norway—revealed to be the birthplace of political correctness—and shows how they have become apologists for radical Islam. Bawer further argues that they are the heirs of Vidkun Quisling, the Norwegian fascist who administered Norway under the heel of the Nazi regime. And he explains how those who oppose open debate and seek to control the conversation about Islam pose the greatest threat to liberal society.
I remember when the Norwegian press was gunning for Fjordman post- Breivik. Those were difficult times — the press even came after us, trying to reach Fj. And they put on the pressure nationwide, trying to get someone, anyone, to come forward with his picture. Perhaps so they could paste it around the country for target practice? One of the daily rags ran a two-page Sunday spread complete with photos of infamous Norwegian traitors — Quisling and Breivik being quite prominent. But where they wanted to put Fjordman's face was a blank rectangle with a big question mark. It was just one more mean-spirited attempt to get someone to rat out Fjordman and provide them with his identity.
That experience was merely another example of why folks in Norway keep a low profile. For us those weeks were a series of close-enough encounters with real bullies. Perhaps one has to go through it to understand. Now we know, and know well that in Norway unless you're in lockstep with the government's coercion consensus, best stay anonymous. I pray it doesn't happen here, though our own Leftists long for such control.
And now for the snip from Fjordman's review:

I haven't changed Fjordman's wording, though my editor's fingers itched to do so. Thus you get the real deal here, Fjordman's first-person response to The New Quislings:
The author [Bruce Bawer] regrets seeing me "being tarred mercilessly by Norwegian media" in the aftermath of 22/7 because some of my essays had been quoted without my knowledge or approval by a mentally disturbed person I had never once met. He states repeatedly that he thinks the terrorist Breivik is insane, or at least partly so. It is true that insane or mentally disturbed individuals can still potentially be influenced by society around them. If this was the case with Breivik, Bawer agrees with those suggesting that to the extent that ABB had "indirect accomplices," these are the Multiculturalists who have suppressed real public debate about vital issues.

He ends his book with a comment by an unnamed observer stating that it's not the people whose books Breivik read and quoted who created the mental atmosphere prior to July 2011. "It's the people who refused to debate and discuss the contents of those books and instead chose to stigmatize their authors — and who in the aftermath of the Oslo massacre decided that this was an opportunity to win the argument without having to address the evidence. They're exploiting this episode as viciously as they can to try to restore their control over the parameters of public debate — not understanding that that is precisely what caused the problem in the first place. And not understanding, either, that their 'solution' will only make things worse."

I hope to give a more in-depth review of this book later, but I find it to be somewhat uneven. Bruce Bawer does not lack courage or writing skills, he can read Scandinavian newspapers in the original languages and has followed the local political debate for years. In short, he is in a good position to describe Norway after the Breivik case as an outsider who is at the same time knowledgeable about this country. When writing at his best he does precisely that, but he could have been more effective in achieving this goal if he had structured his book differently.

I understand the intent behind his provocative title. He is tired of being on the defensive vis-à-vis the political Left and the Multiculturalists. Just like you cannot win a football match by doing nothing but defending yourself, so you cannot win a verbal battle by constantly being on the defensive. You need to take the initiative and go on the offensive. I firmly believe this analysis to be correct and sympathize with the author's intent. Attacking is necessary, but not if this means scoring a rhetorical own goal. Unfortunately, I fear that this is precisely what Bawer has done by choosing a title like The New Quislings.

The pro-Nazi collaborator Vidkun Quisling was executed by firing squad for treason at Akershus Fortress in Oslo on 24 October 1945,being at that point one of the most universally reviled Norwegians who ever lived. Linking his name with the Norwegian political elites nearly 70 years later was strategically unwise and largely misses the mark, politically as well as ideologically. It probably scared away parts of Bawer's potential target audience, too. I say this as a friendly person. There are good reasons to be critical of the ruling elites and their Multicultural ideology in many Western countries, but the criticism of them has to be precise and accurate.

In general, the Western world often seems to be mentally stuck in the age of the Second World War, which after all ended three generations ago. The text is also not as international as it could have been. It might have benefited from including more examples of how Breivik's massacre was exploited politically in countries other than Norway.

Summed up, this is a book that contains some good sections, but overall it's not as good as it had the potential to be. It is not Bruce Bawer's best work, although it reminds us that he is not a coward. His adopted homeland has a shortage of dissidents and could use Bawer's writings skills and insights, but he would be more effective in his struggle if he channeled his rage more efficiently and attacked the problem from a different angle. The author would have benefited from spending a few more months polishing his material and focusing it in another way
I will say in Mr. Bawer's defense that I'm glad he rushed to print with this; I'm glad it's available now before the trial. It is my impression that this Kindle book is a preliminary effort, one he needed to get out now. I predict a longer, more "polished" version after the trial has taken place, and after that new trauma (most of it an unneeded show)has been metabolized and processed.
We did need this effort by Mr. Bawer as it stands, however rushed, just as we need Fjordman's own admittedly preliminary review here. I'm glad to have New Quislings now, while things are still in flux. I look forward to reading a more complete account after the show trial is completed.
One thing you can count on: there will be any number of Books-About-Breivik for the next few years. For that, I feel sorry for Norway's own trial by fire in the global press. Make that somewhat sorry: sadder and wiser now that I have experienced what a totalitarian democracy looks like.
So pretty on the surface.