Iraq the Model made a good point in his July 17 post about the Arab double standard used to parse events in Iraq. He was speaking of the previous day's "barbaric attacks" which killed a hundred Iraqis.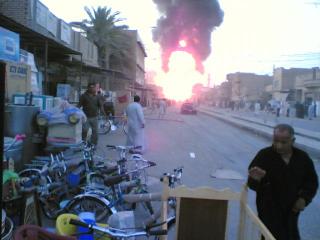 The image is astounding for its ability to show ordinary life against the backdrop of blazing annihilation. Notice that one person stands and watches but another walks down the street as though nothing is going on behind him. "Not my affair…"
What angers Iraq the Model is the double standard the Arab world applies to Iraq's suffering:
    
The government here announced Wednesday a national mourning day in solidarity with the families of the victims of the latest two massacres in Iraq.
But we hear nothing from our Arab "brothers" not even a word of consolation, rejection, condemnation; no nothing.
Even Annan condemned the attacks with a few words while the secretary of the Arab League, Amr Mousa didn't utter a word.
When Mohammed Al-Durra was killed by presumably Israeli fire, the Arab world got literally crazy and countless speeches, articles and protests were made in response to it but when Iraqi children are massacred by an Arab, Muslim jihadist then it's just another sad consequence of the American invasion!
He's right about the double standard. We have it here, too. One standard for the poor insurgents, another one entirely for the nazified American military.
Iraq the Model makes a telling point against those who claim that this wouldn't be happening were it not for the presence of the Americans:
| | |
| --- | --- |
|      | They hate to admit the fact that terrorism existed in Iraq long before America came to Iraq; terrorism and the regime were one hand committing a genocide against the people of Iraq, only it was broader and crueler than today's war but the difference is that no one could hear of that genocide; concrete walls and basements that housed countless torture chambers and the bodies were buried in secrecy and under the cover of the night. |
| | No suicide bombers were needed because the regime was able to take anyone whenever and wherever they liked to torture and kill silently and without making any noise; no media was there to cover beheadings or to tape blowing up people or catch them being fed to the wild dogs. |
And that's really the point, isn't it? Since it was all nice and quiet from where we sat, why bother? The supreme moral relativism has become "My brother's keeper? It depends on the meaning of 'brother' doesn't it? I mean everyone may define 'brother' as he sees fit. Those people have a right to decide for themselves. Not my problem."
And so the Iraqis are to be left to fend for themselves? Here's his take on that particular piece of politcally correct detritus regarding "brothers:"
| | |
| --- | --- |
|      | But when the coalition came and freed Iraq from the head of terror and organized murder, the liberation was considered outrageous. |
| | And then more terrorists started coming to Iraq announcing shamelessly that they want to avenge their master and help their "brothers" after they lost a key supporter who provided them with much of what they needed to spread their evil in the world. |
| | Wake up people; they terrorists are declaring their intentions without fear or shame, so why do you try to ignore what they are not ashamed of declaring? |
| | |
Why indeed? And why do we not make an equally loud declaration? Actually some of us have; it's called The Bush Doctrine.